On June 25, 2014 Familycrossings received the email below from Ancestry.com regarding our requests that they step up and provide additional support for the subscribers of MyFamily. Our development team has worked quickly to provide you with a way of importing your members and adding your photos. Both tools work perfectly however we will not be able to provide any further tools to make for a better transition because of Ancestry.com's response.
Click the image below to read the actual email.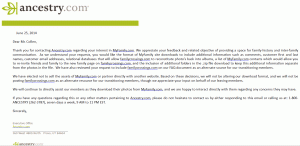 Familycrossings.com will continue to assist Myfamily.com subscribers in transitioning to our family web site product.